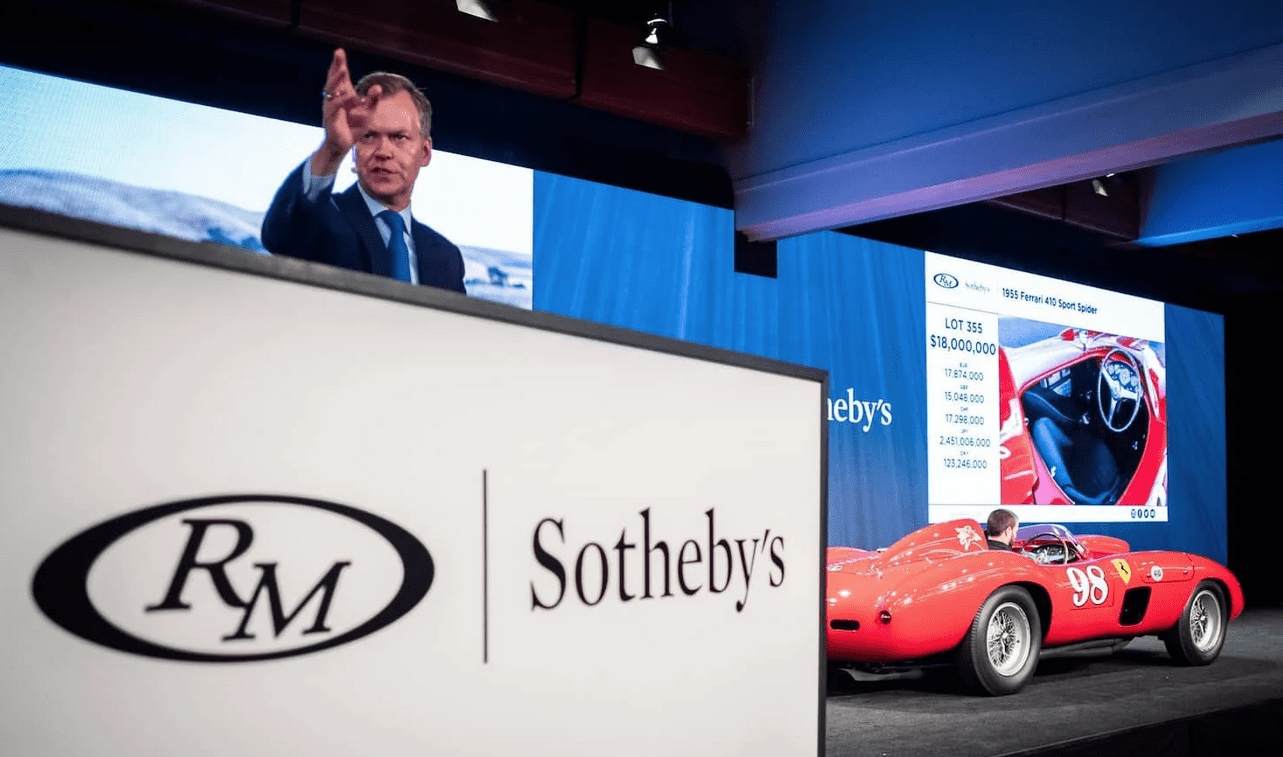 Q3 of every year brings some of the most exciting action at classic car auctions, with the Monterey Auctions happening every August. This is the time of year when we typically see the highest sales, and 2022 was no exception. This 1955 Ferrari 410 Sport Spider sold for over $22M at RM Sotheby's Monterey auction, the 2nd highest sale of the year – beaten only by the famous Uhlenhaut Coupé sold in May. In fact, all numbers for Q3 are up over the past 5 years, except for sell-through rate:
It's clear that the pandemic, and the economic environment affected by it, has catapulted the specialty car market into new territory. Never before have we seen so many cars crossing the block at auction, and for prices this high. But the question remains: will it continue?
At CLASSIC.COM, we analyze data from classic and exotic car auctions around the world. As we look back at Q3, one trend is clear: we are seeing signs that prices are stabilizing from the consistent climb seen since mid-2020, which mostly translates as the stabilization of the overall specialty car market. Let's dig into the numbers.
---
Dollar Volume continues to break records
We saw a total of $1.26B sold at auction this quarter – a 31% increase from the same period last year, and nearly twice as much as Q3'2018.
Of course, every year the auctions at Monterey are a big part of Q3 results, and this year 37% of Dollar Volume came from the live auctions during Monterey, at $465M. But for the past 2 years, the percentage sold by online auctions in Q3 was equal to Monterey – an amazing feat given the Average Price at online auctions is significantly lower than Monterey, showing just how massive the number of listings at online auctions has become.
It's the combination of number of total listings across all value tiers combined with a healthy appetite for cars selling over $1M that contributes to the records in Dollar Volume – a trend that is not growing as quickly as it was in 2021, but is also not showing signs of stopping.
---
Dollar Volume in Q3, 2018-2022
---
Dollar Volume so far in 2022, by month
---
Dollar Volume by Value Tier in Q3, 2018-2022
---
Sold Listings by Value Tier in Q3, 2018-2022
---
Sell-through Rate shows highs and lows of the market
Of the 26,000 listings that crossed the block in Q3, only 65% sold... That means that almost 10,000 cars that were up for sale did not sell! This is down 13% from Q3'21, and a sure sign that the seller's market of the past few years is cooling off.
We see this decrease in Sell-through Rate (STR) more predominantly in online auctions. In Q3'20, online auction STR was at 75%, it dropped slightly in 2021 to 71% and this it dropped 11 points, sitting at 60% this year.
In general, since the beginning of 2022 we've seen a decline in STR – it was at 81% in January across all auction types, mainly aided by the two large live events: Scottsdale (90%) and Kissimmee (87%). Q1 closed at 75% (also aided by 91% at Amelia), but in Q2 it dropped to 66% and now it's at 65% in Q3, which could be a sign of stabilization (as STR stopped dropping).
---
Sell-through Rate in Q3, 2018-2022
---
Sell-through Rate so far in 2022, by month
---
However, this drop in STR does not apply to all value tiers of cars. Cars that sell over $1M increased their STR by 11 points, climbing from 78 to 89%! It looks like many buyers are parking their money into what they deem to be "recession-proof assets" – with vintage Ferraris leading the way!
On the other side of the market, cars that typically sell for under $40K saw a significant decline in STR, from 70% to 60%. Considering the huge volume of sales attempted for these types of cars, it is clear that many sellers are still trying to capitalize on the now-inexistent bull market from 2021 and beginning of 2022.
---
Sell-through Rate by Value Tier in Q3, 2018-2022
---
Sell-through Rate by Value Tier so far in 2022, by month
---
Average Price shows that the market is stabilizing
Average Price has seen an overall increase when comparing Q3 to the same period in previous years. The overall figure climbed from $69K in 2020 to $75K this year, as online auctions remained steady at $46K and other live events (other than those in Monterey) only achieved a slight increase of almost 10%, settling at $56K.
In general, we can see that the average price for each value tier (except 7-figure cars, largely represented at Monterey), has been steady during Q3 across the past five years, and for 2022 as a whole. While we know that the number of under $40K cars has increased significantly in those 5 years, this steady average price means the larger volume of cars are selling for relatively same prices. The overall Average Price increase can then be explained by the slight increase seen for 7-figure cars. The latter is explained by more cars becoming 7-figure cars, and most of them seeing record-setting prices. Two good examples are Porsche Carrera GT's and Ferrari F40's!
---
Average Price in Q3, 2018-2022
---
Average Price so far in 2022, by month
---
Dollar Volume by Value Tier in Q3, 2018-2022
---
Sold Listings by Value Tier in Q3, 2018-2022
---
Top Sales so far this year
It's always fun to keep an eye on the top sales of the year… and 8 of the Top 10 Sales so far this year occurred in Q3!
---
Looking forward to Q4
As we head into the final 3 months of the year, with stocks in a bear market and the word "recession" on everyone's lips, we expect to see more stabilization of the market – with sellers reconciling their reserve prices closer to buyer's expectations, and blue-chip, high-value cars still selling for top dollar. Everyone is hedging their bets on what 2023 will bring, and we'll be here helping you follow the market and make the best decisions possible when it comes time to buy and/or sell that special car.