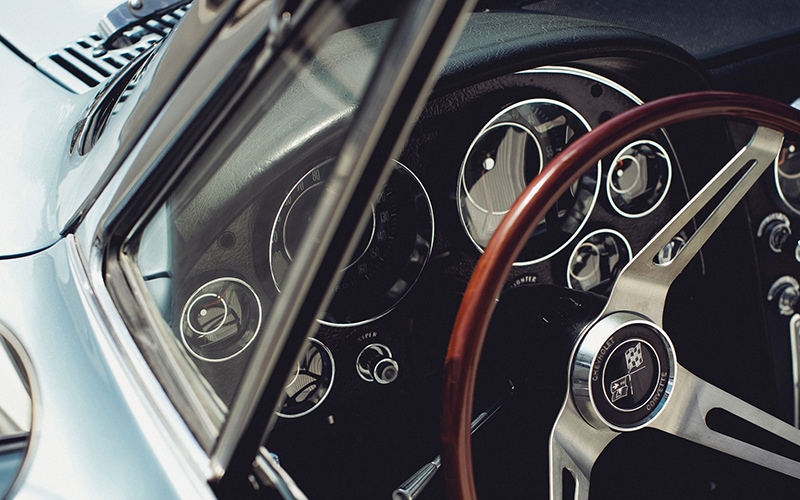 Well, there's no quick answer for that one. Values range greatly depending on the engine configuration and other factors, but hopefully this blog post and the Markets on CLASSIC.COM can serve as a good source of information when you go out shopping… or selling!
Engine Configuration
The Corvette C2 markets on CLASSIC.COM are mostly curated based on the engine configuration (displacement/hp) described by the seller. With a couple of notable exceptions (the C2 Z06 and C2 L88), that is typically how enthusiasts refer to these vehicles.
For example, you will see a Market labeled Chevrolet Corvette 327/300 – C2 (1963 to 1967). In that market you will find Corvettes, from the C2 generation, with the 327 cu in engine (displacement), rated at 300 horsepower (ie, 327/300). That version was available during the entire span of this generation, between 1963 and 1967.
With the engine as a constant in each market, you'll have to look out for other variables such as transmission, fuel system (carbureted or injected), body style, and trim aspects as well, which changed over the years. Values can vary based on these important factors, but we've seen that in most cases they gravitate toward the combination of engine displacement and horsepower.
Matching Numbers
For a purist, another important aspect to consider as well is whether or not a particular vehicle is considered "matching numbers". This means that the vehicle has its original engine block – the same engine that was installed at the factory – and that number "matches" the body (or chassis) number. If you'd like to verify that a Corvette C2 is matching numbers, make sure that the last few numbers on the engine block are the same as the last few digits on the VIN. Reviewing the Title, any literature, and pictures provided by the seller may be enough to give you some comfort, but there's nothing like a physical inspection to be sure.
Engine Code
Another interesting source of information for a Corvette C2 is the engine code. Stamped next to the engine number, you will find another string of characters – this is the engine code. The last two digits on that string should correspond to one of the codes in the table further below. For example, if the code is RF, and it's a 1964 Corvette, then you will know that it's a 327/375 – which means a 327 cu in engine, rated at 375 horsepower, with fuel injection, and a manual transmission installed at the factory. The year of the vehicle is an important distinction – note that the RF code for a 1963 Corvette would be 327/360.
A world of caution: Watch out for undisclosed engine swaps, fake stampings, etc.
Markets for the C2 Corvette on CLASSIC.COM
With these basics out of the way, now it's time to really start honing in on the exact vehicle you have your eye on. On CLASSIC.COM, you can Follow the overall Corvette C2 market, or any of the deeper markets. Using the table below, simply find the model you are looking for, click on the related link in the table, and click the "FOLLOW" button for that market. Then, you can sit back and we'll keep you updated with any new listings and sales prices for vehicles in that market as they become available. Happy hunting!
---
Sale prices for the Corvette C2
Engine

Power

Market

(Disp/HP)

Year(s)

Engine Type

Options

Notes

CMV* (as of May 21, 2020)

327 cu in Small-Block V8

250 hp

1963–1965

Base

n/a

≅ $59k

300 hp

1963–1967

L75

$51,471

340 hp

1963

L76

$128,325

350 hp

1965–1967

L79

$50,520

365 hp

1964–1965

L76

$59,965

327 cu in Small-Block Fuel Injected V8

360 hp

1963

L84

$116,417

360 hp

1963

L84

Z06 – Big Tank

Only 199 produced.

$588,000

375 hp

1964–1965

L84

$76,633

396 cu in Big-Block V8

425 hp

1965

L78

$84,700

427 cu in Big-Block V8

390 hp

1966–1967

L36

$90,540

425 hp

1966

L72

$88,600

427 cu in Big-Block Tri-Power V8

400 hp

1967

L68

$123,750

430 hp**

1967

L88

Only 20 produced. Watch for replicas.

n/a

$2m+

435 hp

1967

L71

$106,468
* CMV = CLASSIC.COM Market Value. A benchmark value for all vehicles in this Market.
** Underrated
---
Corvette C2 Engine Codes
Inspecting the engine code on a Corvette C2 is important to learn more about the original equipment it would have had from the factory. The engine code is found in the last two digits stamped to the engine block. Needless to say, this table is irrelevant if you're looking at a C2 with an engine swap or a resto-mod.
Year

Code*

Market

(Disp/HP)

Engine Type

Description (**see notes for acronym definitions)

1963

RC

Base

WCFB 1x4BC & Manual Transmission

RD

L75

AFB 1x4BC & Manual Transmission

RE

L76

AFB 1x4BC, Hi-Lift Cam & Manual Transmission

RF

L84

FI, Hi-Lift Cam & Manual Transmission

SC

Base

WCFB 1x4BC & Powerglide

SD

L75

AFB 1x4BC & Powerglide

1964

RC

Base

WCFB 1x4BC & Manual Transmission

RD

L75

AFB 1x4BC & Manual Transmission

RE

L76

Holley 1x4BC, Hi-Lift Cam & Manual Transmission

RF

L84

FI, Hi-Lift Cam & Manual Transmission

RP

Base

WCFB 1x4BC, A/C & Manual Transmission

RQ

L75

AFB 1x4BC, A/C & Manual Transmission

RR

L76

Holley 1x4BC, Hi-Lift Cam, A/C & Manual Transmission

RT

L76

Holley 1x4BC, Hi-Lift Cam, T/I & Manual Transmission

RU

L76

Holley 1x4BC, Hi-Lift Cam, A/C, T/I & Man. Trans.

RX

L84

FI, Hi-Lift Cam, T/I & Manual Transmission

SC

Base

WCFB 1x4BC & Powerglide

SD

L75

AFB 1x4BC & Powerglide

SK

Base

WCFB 1x4BC, A/C & Powerglide

SL

L75

AFB 1x4BC, A/C & Powerglide

1965

HE

Base

WCFB 1x4BC & Manual Transmission

HF

L75

AFB 1x4BC & Manual Transmission

HG

L84

FI, Hi-Lift Cam & 4-Speed

HH

L76

Holley 1x4BC, Mech. Lifters, & 4-Speed

HI

Base

WCFB 1x4BC, A/C & Manual Transmission

HJ

L75

AFB 1x4BC, A/C & Manual Transmission

HK

L76

Holley 1x4BC, Mech. Lifters, A/C & 4-Speed

HL

L76

Holley 1x4BC, Mech. Lifters, T/I & 4-Speed

HM

L76

Holley 1x4BC, Mech. Lifters, A/C, T/I & 4-Speed

HN

L84

FI, Hi-Lift Cam, T/I & 4-Speed

HO

Base

WCFB 1x4BC & Powerglide

HP

L75

AFB 1x4BC & Powerglide

HQ

Base

WCFB 1x4BC, A/C & Powerglide

HR

L75

AFB 1x4BC, A/C & Powerglide

HT

L79

Holley 1x4BC, Hyd. Lifters, & 4-Speed

HU

L79

Holley 1x4BC, Hyd. Lifters, A/C & 4-Speed

HV

L79

Holley 1x4BC, Hyd. Lifters, T/I & 4-Speed

HW

L79

Holley 1x4BC, Hyd. Lifters, A/C, T/I & 4-Speed

IF

L78

Holley 1x4BC, T/I & 4-Speed

1966

HE

Base

Manual Transmission

HH

Base

K19 & Manual Transmission

HO

Base

Powerglide

HR

Base

K19 & Powerglide

HT

L79

Hi-Lift Cam & 4-Speed

HD

L79

Hi-Lift Cam, K19 & 4-Speed

HP

L79

Hi-Lift Cam, A/C, P/S & 4-Speed

KH

L79

Hi-Lift Cam, K19, A/C, P/S & 4-Speed

IL

L36

Special Cam, Hyd. Lifters, & 4-Speed

IM

L36

Special Cam, Hyd. Lifters, K19 & 4-Speed

IQ

L36

Special Cam, Hyd. Lifters, & Powerglide*

IR

L36

Special Cam, Hyd. Lifters, K19 & Powerglide*

IP

L72

Special Cam, Mech. Lifters & 4-Speed

IK

L72

Special Cam, Mech. Lifters & M22 4-Speed

1967

HE

Base

Holley 1x4BC & Manual Transmission

HH

Base

Holley 1x4BC, K19 & Manual Transmission

HO

Base

Holley 1x4BC & Powerglide

HR

Base

Holley 1x4BC, K19 & Powerglide

HP

Base

Holley 1x4BC, P/S & Manual Transmission

HT

L79

Holley 1x4BC, Hi-Lift Cam & 4-Speed

HD

L79

Holley 1x4BC, Hi-Lift Cam, K19 & 4-Speed

HP

L79

Holley 1x4BC, Hi-Lift Cam, A/C, P/S & 4-Speed

KH

L79

Holley 1x4BC, Hi-Lift Cam, K19, A/C, P/S & 4-Speed

IL

L36

Holley 1x4BC, Spec.Cam, Hyd. Lifters & 4-Speed

IM

L36

Holley 1x4BC, Spec.Cam, Hyd. Lifters, K19 & 4-Speed

IQ

L36

Holley 1x4BC, Spec.Cam, Hyd. Lifters & Powerglide

IR

L36

Holley 1x4BC, Spec.Cam, Hyd. Lifters, K19 & Powerglide

JC

L68

L36 Engine w/ Holley 3x2BC & 4-Speed

JF

L68

L36 Engine w/ Holley 3x2BC, K19 & 4-Speed

JD

L68

L36 Engine w/ Holley 3x2BC & Powerglide

JG

L68

L36 Engine w/ Holley 3x2BC, K19 & Powerglide

JE

L71

Holley 3x2BC, Mech. Lifters & 4-Speed

JA

L71

Holley 3x2BC, Mech. Lifters, K19 & 4-Speed

IU

L89

Holley 3x2BC, L71 Engine w/Alum. Heads & 4-Speed

JH

L89

Holley 3x2BC, L71 w/Alum. Heads, K19 & 4-Speed

IT

L88

Holley 1x4BC, Heavy-Duty Engine & M22 4-Speed
* Last two digits on the engine block
** Description:
WCFB and AFB four-barrel carburetors manufactured by Carter
Holley 1x4BC is a single four-barrel carburetor
Holley 3x2BC is a three two-barrel carburetor
FI means Rochester Fuel Injection
A/C means Air Conditioning (C60)
T/I means Transistor Ignition (K66)
K19 is Air Injection Reactor equipment
P/S means Power Steering (N40)
M22 is Heavy-Duty Four-Speed Transmission
---
Resources: