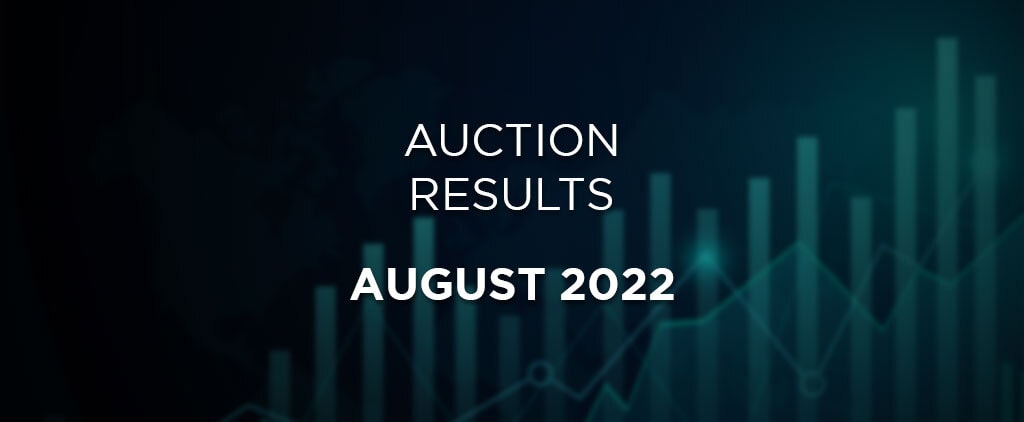 August is always a month that gets the classic and exotic car market talking – and this year was no exception. With almost 40% more Total Listings than August 2021, and 35% growth in Dollar Volume, there's a lot to digest. Let's dig into the numbers.
Out of the massive $642.5M in cars that sold last month, $463.7M was spent over just 3 days at the Monterey Auctions, with 1 single sale accounting for $22M. The high-end of the market is clearly resilient to the broader economic environment, while online auctions continue to establish their place in the overall landscape.
---
The hottest month, of the hottest year
With the Monterey auctions taking place every August, it's always one of the hottest months of the year... with this year already breaking records, last month was incredible. In total Dollar Volume sold at auction, August 2022 was the hottest month we've seen this year, and over 33% hotter than the same month last year.
Total Dollar Volume so far in 2022 has been $3.12B – compared to $1.91B for the same period in 2021. An increase of 63% year-over-year.
Dollar Volume, 2022 Year-to-Date
Dollar Volume, August past 5 years
---
Signs of stabilization in the mid-range of the market
Aside from the auctions in Monterey, the online auctions brought in $168.6M in Dollar Volume last month, delivering 36% growth over August 2021. But for online auctions and other live auctions, the story isn't about Dollar Volume as much as it is about Average Price and Sell-through rate.
We see a slow down for entry-level to mid-tier cars ($20k to $150k) with prices stabilizing across most Make and Model variants, which will eventually lead to sellers becoming more flexible with their reserves. This is evidenced by the lower sell-through rates at online auctions when compared to live auctions.
To be clear, prices are not dropping – they are merely stabilizing. That is good news relative to other asset classes.
Sell-through Rate, 2022 Year-to-Date
Average Price, 2022 Year-to-Date
---
Now let's have some fun. Below you can see the Top 10 Sales and the Top 10 Flips (…and Flops!) for the month of August. With the Monterey auctions, it's no surprise that we had some of the highest sales of the year, including $22M for a Ferrari 410 Sport Spider race car. But the real eye-openers came in the form of a trio of flips for nearly $2M each. WOW!
---
Top 10 Sales
It's no surprise that all of the Top 10 sales this month happened in Monterey, but a few things are very notable:
9 of the 10 were from RM Sotheby's
6 of the 10 were Ferraris
the "newest" of the cars that sold in the Top 10 is from 1966
---
Top 10 Flips & Flops
A "Flip" or "Flop" is defined as a car for which we have a previous sale record, so we can determine the net gain/loss and time since the previous sale. Obviously, it's possible that cars have changed hands in private sales between these public listings, but nevertheless it provides great insight into the market to see which cars sold this month for substantial gains or losses over their previous sales.
---
Auction data for August 2022 includes results from the following Auctions: