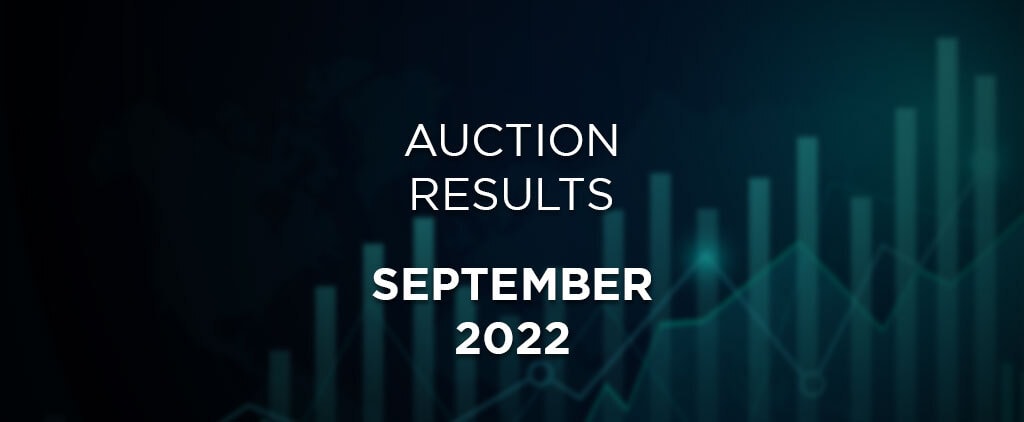 In September, classic and exotic car auctions saw $399.6M in sales across 5,687 listings – with 67% of the vehicles crossing the block meeting reserve.
While the total number of vehicles being brought to auction is higher than ever, Sell-through Rate has been declining consistently in 2022. This isn't surprising given the combined effects of the popularity of online auctions and the broader economic environment of 2022. Read on to see the auction results breakdown for September, and check out our Q3 Market Insights for more trends this year.
---
Top 10 Sales
With stand-out live auctions presented by Bonhams, Gooding & Company, RM Sotheby's and Worldwide this month, we saw a great list of Top 10 Sales, all over $1.4M. Bring a Trailer was the only online auction that made the list at #10, and they also had 3 other sales over $1M this month.
---
Top 10 Flips & Flops
A "Flip" or "Flop" is defined as a car for which we have a previous sale record, so we can determine the net gain/loss and time since the previous sale. Obviously, it's possible that cars have changed hands in private sales between these public listings, but nevertheless it provides great insight into the market to see which cars sold this month for substantial gains or losses over their previous sales.
---
Dollar Volume, September 2018-2022
Overall Dollar Volume was up 18% from September 2021, with the proportion of online auctions slightly lower (45% in 2022 vs 50% in 2021).
---
Sold Listings, September 2018-2022
Almost 60% of the auction listings that sold in September were from online auctions. This is up from 50% in both September 2021 and 2020.
---
Sell-through Rate, September 2018-2022
Sell-through rate for live auctions continues to out-perform online auctions, with overall sell-through rate declining over the past 2 years.
---
Average Price, September 2018-2022
Average price at live auctions is also higher than online auctions – this can be traced to the trend of higher-value cars being sold at live auctions, not necessarily that the same car would sell for more at a live auction vs an online auction.
---
Results are included from the following auctions in September 2022: