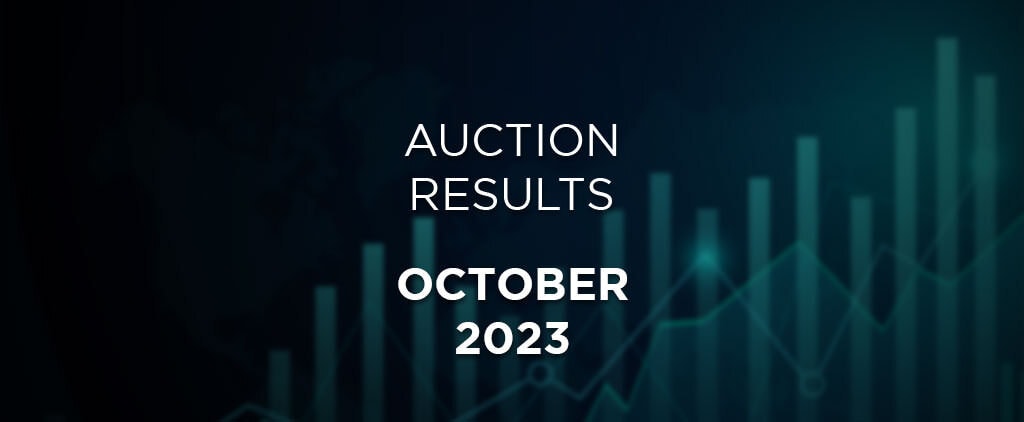 For the first time in 2023, the market seems to be slowing down. Even though we've been noting a decrease in sale prices this year, we have also seen record-breaking numbers of sold listings – showing a very active market. In October, that activity showed signs of slowing with a 2% drop in total listings and an 8% drop in sold listings.
---
The market, which maintained stability for most of the year so far, appears to be taking a slight dip as the year draws to a close…
When comparing month-over-month sales in 2023 vs 2022, we see that two things stand out:
In terms of Sold Listings, every single month in both years have been very similar, pointing to the overall stability of the market that we've discussed throughout the year. However, October 2023 was the first time where the trend reversed: in 2022 the number of sold listings between September and October increased, and in 2023 the opposite happened. With seasonality being so important in the auction world, this appears to be a sign of a market slowdown.


In terms of Dollar Volume (DV). Most months in 2023 have shown less Dollar Volume than in 2022, except for January, February and June. With Sold Listings relatively stable compared to 2022, but DV consistently below, the Average Sale Price went down. The market appears to be settling into a new normal, down from the bullish prices of 2021 and early 2022. We'll be watching closely to see if this continues.
---
---
---
...and the live auctions are bearing the brunt of it.
When we look at the data for online auctions, we continue to see growth in terms of sold listings (+9%) and the total listings (+11%). However, both the sell-through rate and the average sale price have slightly decreased. This matches what we've noticed this year: fewer cars are selling at auction, and on average they're selling for less money.
The live auctions seem to be bearing the brunt of the market dip – especially in terms of dollar volume and average sale price. With the ever-growing volume of online events, it appears that more and more sellers are choosing these less-risky online channels to sell their cars. However, it's important to note that 7 of the Top 10 Sales in October were from live auctions – while quantity is lower, they are still the venue of choice for high-value, harder-to-find makes and models.
---
---
---
Dollar Volume in Oct, Past 5 Years
Sold Listings in Oct, Past 5 Years
---
---
Top 10 Sales in October 2023
Bonhams' Zoute Sale brought the majority of the top sales this month – with 7 of the Top 10. In fact, it was the only live auction to make the list. The other 3 sales were from online auctions – with Collecting Cars having the 2nd highest sale, and Bring a Trailer having the 3rd and 9th.
If the Top 10 Sales chart above does not load, please refresh the page and wait 10 seconds. Thanks for your patience while we get the gears running.
---
Top 10 Flips & Flops in October 2023
A "Flip" or "Flop" is defined as a car for which we have a previous sale record, so we can determine the net gain/loss and time since the previous sale. Obviously, it's possible that cars have changed hands in private sales between these public listings, but it still provides great insight into the market to see which cars sold for substantial gains or losses over their previous sales.
If the Top Flips & Flops charts above do not load, please refresh the page and wait 10 seconds. Thanks for your patience while we get the gears running.
---
Market Busters in October 2023
It's not just about high-value cars. Many great examples are crossing the block and breaking records across all value tiers. Check out these listings that broke records to become the Top Sale in their individual Markets last month.
If the Market Busters chart above does not load, please refresh the page and wait 10 seconds. Thanks for your patience while we get the gears running.
---
---
Results are included from the following auctions in October 2023: