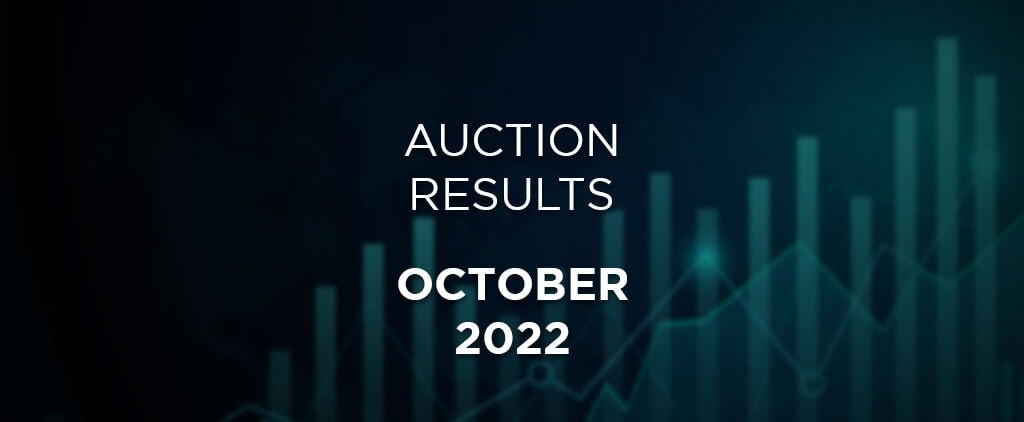 The overall growth rate of the classic and exotic car market has slowed, but it's not all doom and gloom. In fact, Online Auctions saw their best month ever with almost $174M in Dollar Volume, and 3 of the Top 10 Sales this month being sold online for over $1M.
However, we are also seeing record low Sell-through Rates, especially at Online Auctions (59%). The seller's market of 2021 is over, but buyers are still interested in securing recession-proof assets.
---
Looking deeper at value segments
The broader economic environment is effecting buyers' attitudes, and they are being more judicious with their bids, especially with mid-range cars at Online Auctions. But classic and exotic cars are still a great store of value, and when we break down the data by segmenting sales into ranges by sale price, we can start to see trends more clearly:
Comparing Value Segments in October 2022
Some key takeaways:
The 7-figure segment is the "healthiest" in terms of Sell-through Rate (STR), with 90% of cars that went to auction being sold: 19 sold listings representing $27.7M in sales – with 6 of those selling online. This segment saw significant growth in both Dollar Volume and Sold Listings – more than triple the average for October between the past 5 years.
The $500K-1M segment had a similar performance to the 7-figure segment, although a lower STR: 75% in 27 sold listings which represented $19M in sales. As with 7-figure cars, this segment saw healthy growth of 170% over October 2021.
The $250K-500K segment was also strong with a STR of 79%: 99 sold listings (22% more than October 2021) representing $33.9M in sales (33% more than October 2021).
The $100-250K segment grew 28% in terms of Sold Listings (498 vehicles), 36% in terms of Dollar Volume ($76M), and had a relatively stable STR of 79%, dropping only 6% vs 2021.
The $40-100K segment also saw interesting growth and similar performance to higher value segments: 14% up in Dollar Volume ($92.2M), 13% up in Sold Listings (1,485), stable Average Price at $62.1K and STR at 78%, down 5% vs 2021.
The <$40K segment, which was the slowest segment, grew only 7% in terms of Dollar Volume ($72M) and 6% in terms of Sold Listings (4K vehicles), while the Average Price dropped 2% to $18.2K and the STR is down 19 points to 61%.
---
Dollar Volume
Overall, Dollar Volume was up 30% from October 2021, with Online auctions representing 54% of sales. This marks the first October where Online auctions did not grow in terms of market share since 2018. Nevertheless, October 2022 was a record-setting month for Online auctions: selling almost $174M!
Dollar Volume, October over the past 5 years
Dollar Volume, 2022 Year-to-date
---
Sold Listings
Almost 60% of the auction listings that sold in October were sold online. In fact, Sold Listings for Online Auctions were just shy of the record number (3.6K this month vs 3.7K back in May). This is further proof that the buyers are out there.
Sold Listings, October over the past 5 years
Sold Listings, 2022 Year-to-date
---
Sell-through Rate (STR)
Overall, STR declined significantly compared to October of last year, with the Online Auctions seeing a greater decline than Live Auctions – continuing the trend we've been seeing since mid-2022. Nevertheless, it is mostly cars that sell under $40K at Online Auctions that are driving the STR down – while STR for all sales above $40K were at 78.5% overall (68% Online vs 98% Live), the STR for under $40K was at a 60.5%, down 19 points from 2021 (56% Online vs 69% Live).
Sell-through Rate, October over the past 5 years
Sell-through Rate, 2022 Year-to-date
---
Average Price
Average price at Live Auctions is also higher than Online Auctions, and slightly higher this year over 2021. Keep in mind that it's common for higher-value cars to be listed at Live Auctions, and these trends do not necessarily mean that the same car would sell for more at a Live Auction vs an Online Auction.
Average Price, October over the past 5 years
Average Price, 2022 Year-to-date
---
...and we can't let you go without the top sales, flips, and flops from October 2022:
---
Top 10 Sales
3 of the Top 10 cars this month were sold at online auctions – with the Top Sale going to this 2004 Ferrari Enzo sold by Collecting Cars. Notably, this car is also our Top Flip this month, selling for a $930k net gain since its previous sale in 2017. With all Top 10 sales selling over 6-figures, the top end of the market remains strong even as we see softness in the under-$100k range.
---
Top 10 Flips & Flops
A "Flip" or "Flop" is defined as a car for which we have a previous sale record, so we can determine the net gain/loss and time since the previous sale. Obviously, it's possible that cars have changed hands in private sales between these public listings, but nevertheless it provides great insight into the market to see which cars sold this month for substantial gains or losses over their previous sales.
---
Results are included from the following auctions in October 2022: