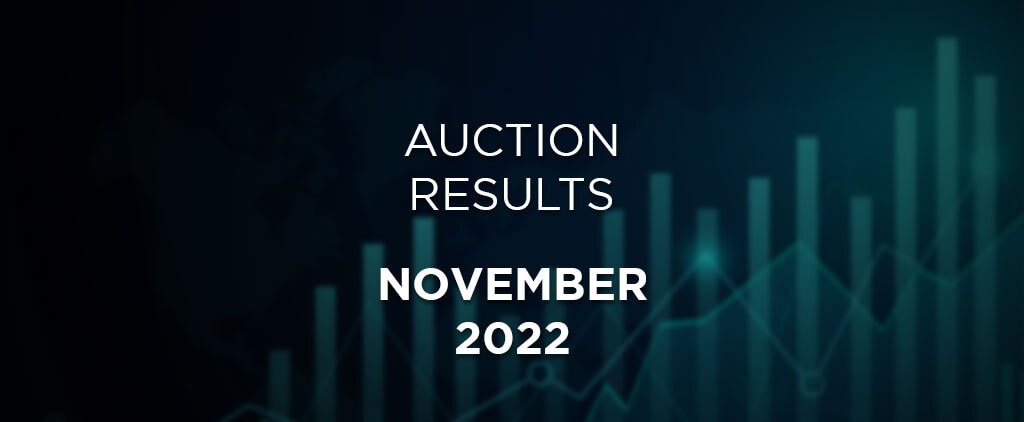 In November, we saw $304M in sales across 5,009 listings at classic and exotic car auctions – with 59% of the vehicles crossing the block meeting reserve. While Dollar Volume and Sold Listings continue to hit records, Sell-through Rate has been declining consistently in 2022 – and hit its lowest point so far last month. This is especially prominent in the <$40k segment, as we covered last month.
As we look forward into 2023, some clear trends for 2022 have emerged, including the continued effects of Online Auctions, the related participation of younger generations, and a softening of the market – especially in the <$40k value segment. Stay tuned as we dig into these trends, and the data behind them, in our 2022 Year-end Report next month!
---
Top 10 Sales, November 2022
November saw approximately 20 seven-figure sales. Amongst these top sales we found a Ferrari driven by Schumacher that won the F1 Championship, two Bugatti Chiron's, two Ferrari Enzo's, three Ferrari F40's, a Lamborghini Miura, a Group B Audi Quattro, a Group B Lancia Delta, a LaFerrari, two Porsche Carrera GTs, several Ford GTs, and a few other highly regarded seven-figure cars.
All of the Top 10 sales last month sold for over $2M each – with 8 of the 10 crossing the block through RM Sotheby's – and that doesn't include 4 high profile lots that were sold in "Sealed" auctions at RM. Andy Warhol's famous Gullwing, two Ferraris, and a special edition Mercedes-Benz CLK DTM were all sold this month, but (unfortunately) prices were not revealed so they aren't included in our reports.
---
Top 10 Flips & Flops, November 2022
A "Flip" or "Flop" is defined as a car for which we have a previous sale record, so we can determine the net gain/loss and time since the previous sale. Obviously, it's possible that cars have changed hands in private sales between these public listings, but it still provides great insight into the market to see which cars sold for substantial gains or losses over their previous sales.
---
Dollar Volume, November over the past 5 years
---
Sold Listings, November over the past 5 years
---
Sell-through Rate, November over the past 5 years
---
Average Price, November over the past 5 years
---
Results are included from the following auctions in November 2022: