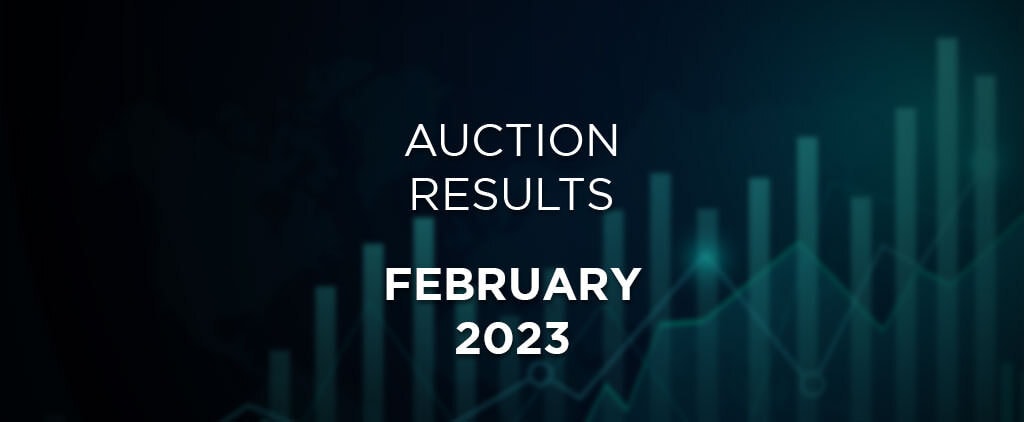 Welcome to March. We are now 2 months into 2023 and have already watched 3 of biggest auction events of the year: Kissimmee, Scottsdale and Paris all saw records in both Dollar Volume and Sell-through Rate. The industry is watching with high expectations for the auctions in Amelia Island, happening this week.
But let's not get ahead of ourselves… let's dive into the numbers for February:
---
The auctions in Paris take the driver's seat
Over the past few years, partially due to the pandemic's effect on in-person events, Paris had taken a proverbial "back seat" to Online auctions... but this year, Paris is back in the driver's seat with record numbers of listings and sales.
3 auction houses held events in Paris this year – Artcurial, Bonhams, and RM Sotheby's. Together, they sold $127.1M in Dollar Volume – almost 44% of the entire month's total dollar volume, from 9.5% of the total sold listings.
---
The market is cooling... but still strong & stable
While overall Sell-through Rate and Average Price are both declining from their highs in 2021, the market is still thriving, especially the high-end cars represented primarily at live auctions. Buyers are out there, and smart sellers are seeing their cars sell. We are seeing more listings with "No Reserve" than ever before at live auctions, which we expect to see even more throughout this year.
---
Of course, we can't end a monthly report without everyone's favorite lists! Without further ado, here are the notable sales of the month:
Top 10 Sales
It's no surprise that the Paris auctions dominated the Top 10 Sales this month, including a 1 of 1 Bugatti Profilée that sold for over $10M at RM Sotheby's. This gorgeous 2010 Mercedes-Benz SLR Stirling Moss didn't make the list since the price wasn't disclosed... but it might belong here. If you know anything about the price on that one, send us an email :)
If the Top 10 Sales chart above does not load, please refresh the page and wait 10 seconds. Thanks for your patience while we get the gears running.
---
Top 10 Flips & Flops
A "Flip" or "Flop" is defined as a car for which we have a previous sale record, so we can determine the net gain/loss and time since the previous sale. Obviously, it's possible that cars have changed hands in private sales between these public listings, but it still provides great insight into the market to see which cars sold for substantial gains or losses over their previous sales.
If the Top Flips & Flops charts above do not load, please refresh the page and wait 10 seconds. Thanks for your patience while we get the gears running.
---
Follow the action in Amelia Island
The auctions in Amelia Island are happening this weekend, March 2-4, 2023. We've consolidated all the listings in one page so you can search for your favorites, save them to get alerted when they go to auction, and follow sales as they are reported.
---