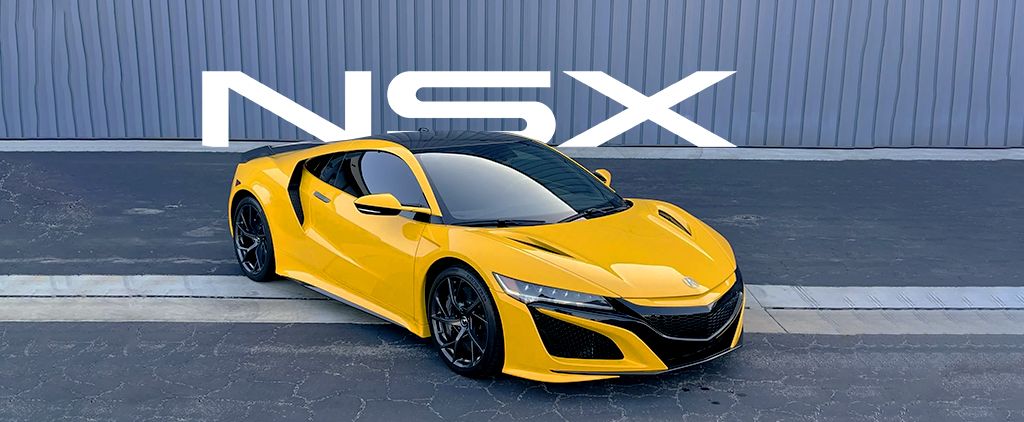 Previously, we discussed the roller coaster ride that the NA1 NSX and many other 90's and 2000's Japanese sports cars enjoyed during the last few years, but how did their modern equivalents perform during this period and where are they now?
This month we'll be talking about the NC1 Acura NSX, produced from 2017-2022. I'll apologize in advance, this is going to be a long one but I promise, it will be an interesting read.
---
About the NC1 Acura NSX
Let's begin with a quick overview. The NC1 went from zero to hero seemingly overnight. An amazing and beyond under-appreciated sports car since its inception, the car appeared doomed from its initial launch. Contemporary tests at the time quoted 0-60 mph times around 3 seconds flat, on its way to an electronically limited 191 mph top speed. Putting that into perspective, we're talking about Ferrari and Lamborghini performance here. Total system output is rated at 573 horsepower and 476 lb-ft of torque. The NC1 provided everything you'd want and expect in a $150k-$200k supercar. Combining stunning styling, a legitimate performance powerhouse and typical Honda/Acura reliability. One would think it would have been an instant sales success with buyers barging into dealerships but sadly, the complete opposite occurred. The cars languished on showroom floors, some going unsold into the following model year. The car was poorly received… in fact, Acura tried incentivizing the car with rebates and programs that saw buyers receiving a potential $30k to $60k off their original MSRP.
So let's discuss why? For starters, the car took forever to actually come to production. In 2012, Acura dazzled clients with an incredible Super Bowl Ad featuring the NSX concept and none other than everyone's favorite car loving comedian, Jerry Seinfied. The hype was there but would be buyers wouldn't see the finished product for nearly 5 more years. In 2016, the Acura product lineup was as weak as it had been in almost 10 years and many dealers saw the opportunity to finally have a hot product that commanded an ADM, or an adjusted dealer markup. I can't say I blame them as years of selling of selling traditional cars and suvs at or near cost had finally taken their toll. Stories of $25k, $50k and $100k markups seemed commonplace and the demand dwindled. Combined with the fact that many buyers still never really got over the stigma that a Japanese supercar would cost $200k, sales were sluggish at best. While Acura did manage to sell 941 cars in 2016, sales came to a screeching halt from 2018 onwards. Oddly enough, while Acura only sold a paltry 111 cars in 2021, the release of the 2022 NSX Type S seemed to ignite enthusiasm and the car would seemingly become an instant modern classic. In August of 2021, Acura announced that 2022 would be the final year of production and they would be making 350 units for worldwide consumption. The car sold out in less than 24 hours. Everyone wanted to get in on the action and stories of the cars selling for double MSRP were reported. As I stated earlier, the NC1 was the definition of a market value roller coaster ride. Essentially identical to the NA1 values that we discussed earlier, it seems like the market peak was late May and it's been a steady decline since. While the average sale price is still up from the beginning of the year, it will be interesting to see how it shapes up in Q1 2024. So far YTD, we've recorded 12 sold listings and 7 reserve not met transactions. As you can see, those numbers aren't exactly inspiring confidence for NC1 owners.
---
The NC1 NSX Market in 2023
And now without further ado, let's talk about the numbers and what they mean. In a market that seems to be constantly moving at a rapid pace, let's look at examples sold in 2023 using the traditional, "well bought, well sold or both" format.
---
---
Should you buy?
So is now the best time to buy an NC1 NSX? Well, that's a complicated question. As you can see, values are dropping and I think they will continue to drop but drop to what and when will we see the bottom? I think it's safe to say that the bottom for the standard NC1 will be $100k and $150k for Type S examples, I can't foresee any examples without a storied past ever going under that number.
Needless to say, these opinions are strictly my own. They are based on prior market conditions and my past experience in the collector car world. Once cars hit their bottom, they traditionally stay there and start to creep up incrementally as time goes by for a number of different reasons. The availability of cars for sale shrinks as time passes. Miles go up, accidents and total losses happen and when you're dealing with limited production sports cars, the law of supply and demand kicks in.
---
Stay tuned for our next market analysis where we analyze a personal favorite of mine, the Honda S2000. Feel free to reach out with any questions, market highlights and more. And if you have an NSX for sale, or any other Japanese market enthusiast car, I'd love to help you sell it. Click here to send me the information on the car.
---
---