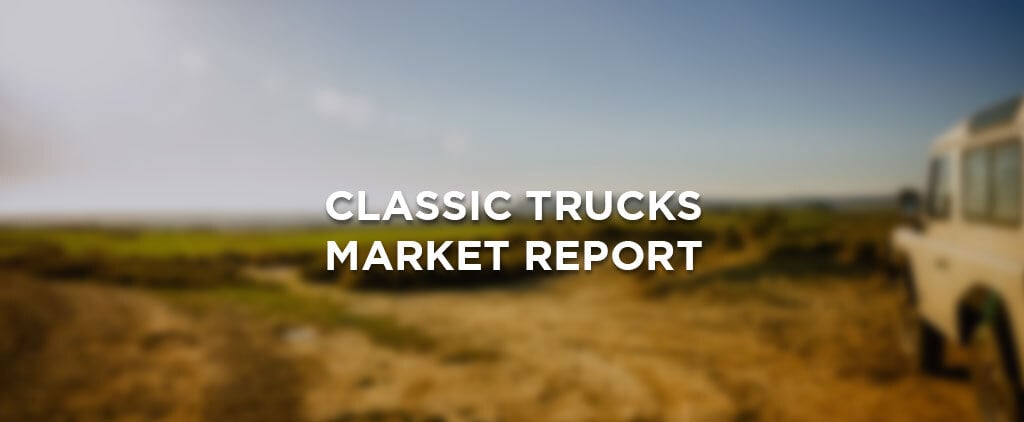 It goes without saying that 2022 was a year of ups and downs, and while that's usually a good thing when you are talking about trucks, it can leave you a bit woozy when you are talking about the Auction Market for classic trucks. Before we talk nerdy about the data, let's look at the Top 3 Sales at the classic truck auctions this year:
And now that we've all drooled a bit… let's dig into the numbers.
---
Listen to us discuss this data on the Classic 4×4 Podcast >
---
#1: The Classic Truck* market has boomed along with the rest of the specialty car market
Thanks in part to the pandemic leaving us with extra time on our hands and nowhere to travel to – combined with new online platforms making it easier than ever to find and buy that car from your childhood dreams – the classic and exotic auction market has seen a boom in the last 2 years. What was once a past time limited to upper-class elites who gathered in person at live auctions has now become accessible via online auctions like Bring a Trailer and Cars & Bids and marketplaces like Fourbie Exchange.
In 2022, the Classic Truck auction market was almost 7% of the $4B overall auction market. In the charts below, we break down Classic Truck auctions in the past 5 years, looking at the amount of money that changed hands (Dollar Volume), Sold Listings, and the Average Price. As you can see, the entire market as a whole has grown, with online sources growing at a much faster rate than live events.
Dollar Volume, Classic Trucks 2018-2022
Sold Listings, Classic Trucks 2018-2022
Average Price, Classic Trucks 2018-2022
---
#2: But it's not a bull market anymore, the economy is shifting
While the growth of the classic and exotic car market as a whole has been staggering the past few years, 2022 has brought about a bit of a softening and plateau of the market. While Dollar Volume and Sold Listings are still setting records, the number of cars that are put up for sale but don't meet reserve has increased significantly. This is measured by "Sell-through Rate" which has been on a steady decline, especially in the online auctions and when you look at trucks that sell in the Under $40k range.
Sell-through Rate, Classic Trucks 2018-2022, by Auction Type
Sell-through Rate, Classic Trucks 2018-2022, by Value Tier
---
#3: You should have bought these trucks last year…
It's not all doom and gloom. There are many markets that are seeing popularity and growth amidst today's market, and while Sell-through Rate points to the fact that the "Seller's market" of the past few years is over, there are still buyers out there willing to spend on special trucks.
Below are the Top 10 Classic Truck markets, ranked based on the year-over-year growth in CMB**:
---
#4: Love 'em or hate 'em, Restomods are here to stay.
I bet you have a friend (or you ARE the friend) who had their original Bronco engine swapped for a Coyote. And where were you the first time you heard of Gateway Broncos, ICON 4x4, or The FJ Company? There's no doubt that the restoration and modification of vintage 4x4s in the past decade has been a popular way to bring a little modern comfort to the trucks of our past.
Let's look at a few markets, distinguishing sales between Restomods and Non-Restomods in 2022:
---
#5: And for a bit of fun, notable sales from this past year:
What's a year-end review without some Top 10 lists? Below we break down the Top Sales into two segments: Original (Non-modified), and Custom/Modified.
Top 10 Classic Truck Sales in 2022 (Original, Non-modified)
Top 10 Classic Truck Sales in 2022 (Modified + Custom)
---
What is YOUR truck worth?
Track the potential value of the truck you own – or the truck you want. In your Garage, we'll show you recent comps for similar trucks, and new comps as we detect them. If/when you are ready to sell, our experts can provide you with an estimate and utilize our industry network to sell your truck.
Check it out >
---
*We define the "Classic Trucks" category as any SUV or Pickup market with production that started before the year 2000.
**The CLASSIC.COM Market Benchmark (CMB) is a benchmark value for vehicles in a given Market based on data accumulated by CLASSIC.COM and calculated by a proprietary algorithm that takes into account volume and recency of each data point. CMB can be used to assess the performance of a market over a given time period. However, it does not represent the value of a specific vehicle. Read more in our Glossary of Terms